Designed by Shepard Fairey and painted by Jaque Fragua, this mural is part of a national project about healthcare and patients' rights.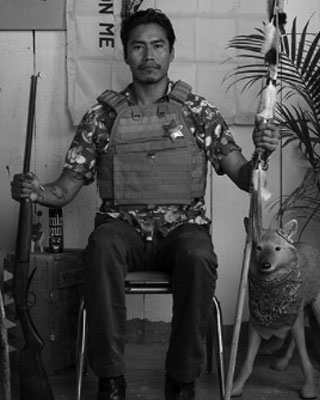 Jaque Fragua is an acclaimed multi-media artist from Jemez Pueblo, New Mexico. From his cultural background, he has developed a yearning for creativity and for the intrinsic process that is Art. Experimenting with various mediums, such as aerosol, found-objects, earthworks, poetry and music; messages of civil unrest, social justice, and emotional introspection and personal healing have heartened his unique perspective on life through art.

Fragua has studied at the Institute of American Indian Arts, and in turn, has taught many community-based workshops, such as mural projects/public-art studies, and studio classes for figure drawing and painting. Fragua has worked with fine establishments such as the Smithsonian National Museum of the American Indian, Institute of American Indian Arts, and Museum of Indian Arts & Culture to produce progressive/innovative exhibits concerning the plight of Native America.