Within the circles are local artists with diverse ages and backgrounds. Being that the main focus is the stage in Civic Plaza, I chose to focus on performers. Note that the Flamenco Performer is Eva Encinias, the founder of the National Institute of Flamenco. I wanted to Illustrate that New Mexico has a rich culture stemming from heritage, like Flamenco and Native Ceremonial Dance, as well as culture that is built through community like poetry, hip-hop and activism.

I also wanted to show our commitment to representing and celebrating people of color and pay tribute to New Mexico's beloved activist and hip-hop giant, Wake Self. The nopal flowers represent the resilience and nature of New Mexican people. Not only have we continued to blossom and flourish in spite of circumstance but we have done so with beauty and spirit.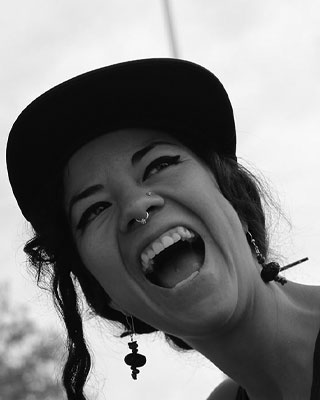 "My ultimate goal is to to connect and uplift all women, while providing a platform for important issues around intersectional feminism, I hope my work to be a catalyst for positive change."
Supported By
City of Albuquerque Public Art Program
Photo By
City of Albuquerque Public Art Program