This mural began with a painting of Our Lady of Guadalupe created by Arlene Cisneros Sena (an accomplished New Mexico Artist and Santera) which was then enlarged, and made into ceramic tiles. The finished dimensions are approximately 5'x 9' and it is one of two ceramic murals in an outdoor prayer pavilion at Prince of Peace Church in Albuquerque.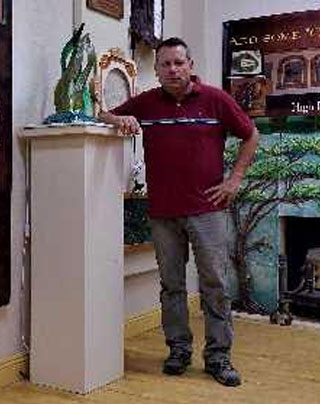 After a rewarding career teaching and inspiring engineering students, Hyde has returned to his passion for creating and building things with his hands, working with ceramics. As a full-time artist his goal is to make "inspiring art with a purpose". He uses his engineering and technical background to design and build innovative and large-scale public art pieces.
Hyde works primarily in ceramics but is proficient with other materials like metal and wood. He enjoys designing new and challenging pieces to beatify and enhance public spaces. His combined art and technical engineering background is displayed through a high-level of design, detail and craftsmanship in his work. He has been involved in the public art arena for over 15 years, as a designer, engineer, creator and consultant but is currently seeking opportunities to create more large scale ceramic pieces.