As a Gen X artist, I grew up skating and riding BMX, in the first decades of both of those sports. I sucked, but I could get
along by poring over the industry rags of the time in the back of my town's bike shops. A part of me is still that kid, trading
in his board for a Sharpie and a sketchbook…I longed to design and execute a high-octane mural, joining world mural
leaders like Bicicleta Sem Freio in bringing to life a corner of pop culture that eats saturated color, explosive pattern
dissonance, and teenaged wish-fulfillment for breakfast.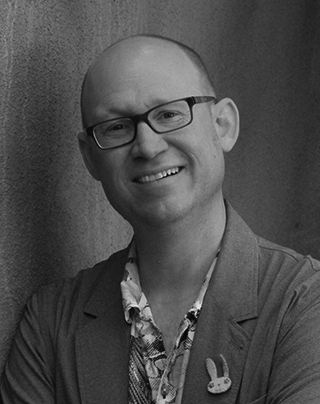 Andrew Fearnside is a New Mexico painter guided by ongoing interests in psychology, social justice, pop culture and spiritual life. After completing a BFA in painting and drawing at the School of the Museum of Fine Arts in his native Boston, he found work as a designer, dancer, teacher and psychotherapist. A first phase of his mural for the Burger Stand Albuquerque was completed in Fall 2019. He began work on "Birds of 'Burque," a mural for the artist studio, Little Bird de Papel in late Winter 2020. He has been juried into group shows in Oregon, Michigan, Colorado and Texas, and has won awards for his work. He has had solo shows at Harwood Art Center, Zendo, and the Erna Ferguson Library in Albuquerque, and duos at the Open Space Visitor Center and Page Coleman Gallery. His collaborative book with artist (and sister) Lee Fearnside, "O! Relentless Death! Celebrity, Loss and Mourning," won an Gold IPPY Award in 2019, and was a finalist in the 2019 American Book Fest.
Supported By
City of Albuquerque Public Art Program
Photo By
City of Albuquerque Public Art Program